On Monday I took a little trip to Liverpool with Becca and Chloe to see the Alice in Wonderland exhibition at Tate Liverpool, which is running from 4th November to 29 January 2012. According to the gallery the exhibition 'provides the first comprehensive exploration of the stories influence on the visual arts, providing insight to their creation and the adoption and revision of their themes and characters by artists up to the present day'.
Lewis Carroll's timeless books are amazing, but apparently they're a lot more complex than you realise: 'his stories are rich in logical, philosophical and linguistic puzzles - reflecting their author's fascination with language and with questions of meaning'.
So we got in with 10% off the student ticket (don't ask me why, but not complaining!) and went into the first exhibition room which was on the ground floor. The room had giant, extravagant curtains on the entrance so I was quite excited to see what was inside. However, I was a bit disappointed. The first thing that catches your eye is Jason Rhoades' Tate Touche from My Madinah: in pursuit of my ermitage, which was created in 2004:
This installation basically consisted of a series of neon words hanging from the ceiling, along with lots of wires and cables. The range of words were really weird and wonderful; trout basket, Sigourney Weaver, apricot split and flapjacks were amongst the collection. Some of the words were perhaps not suitable for children so you immediately got the sense that this exhibition wasn't going to be the Disney/Tim Burton inspired adventure I'd expected. Nevertheless, I quite liked the piece - it was really colourful and crazy, just like Wonderland I suppose. The neon colours were really bright and bounced off the surrounding walls, it was a nice contrast to some of the other pieces in the room.
At the opposite end was a huge painting by Luc Tuymans called Wonderland (2007):
It was a beautiful piece but was very cold in colour and didn't really shout Alice in Wonderland - more the Snow Queen. Apparently it's based on the entrance to an Alice ride in Disneyland, but the colours are so stripped back I don't think anyone would recognise it.
There were also 3 really interesting photographs in the room by a Swiss artist called Annelies Strba, whose style is described as 'digital impressionism'. They are from a series called Nyima and feature girls lying asleep in woodland-type areas:
I really liked the effect of these pieces, the girls are glowing/radiating and they look quite magical. The colours achieved are really bright and bold, you can tell they are done digitally but that just adds to the appeal. Although the girls look really sweet and innocent, there's something slightly sinister about the photographs, are they really asleep??
After this first room we headed up to the fourth floor for the rest of the exhibition. Upon arriving I was quite surprised. The room was quite dark and was organised like any other exhibition, with pictures formally hanging all the way around the room with large chunks of text explaining the history of Alice in Wonderland. Some of this was fairly interesting, for instance I didn't know Lewis Carroll was actually a pseudonym for Charles Lutwidge Dodgson. The first part of this floor was dedicated to the early manuscripts of Alice in Wonderland which Carroll illustrated himself. We then get to the more recognisable illustrations of John Tenniel, when Carroll decided to use a more professional artist when the book was first published.
In a side room, more traditional pieces influenced by or depicting Alice in Wonderland were displayed. There were numerous cabinets with rows of books and illustrations which were mostly created in the late 19th and early 20th century. Below are just a few of the ones that I particularly liked:
Maria L Kirk, Alice Through the Looking-Glass, 1905.
Andre Jourcin, Alice in Wonderland, 1945.
Thomas Robinson, Alice in Wonderland, 1908.
Deloss McGraw,
Alice in Wonderland
, 2001.
Charles Handel Rand Marriott,
Wonderland Quadrilles

,
artwork for piano sheet music, 1872.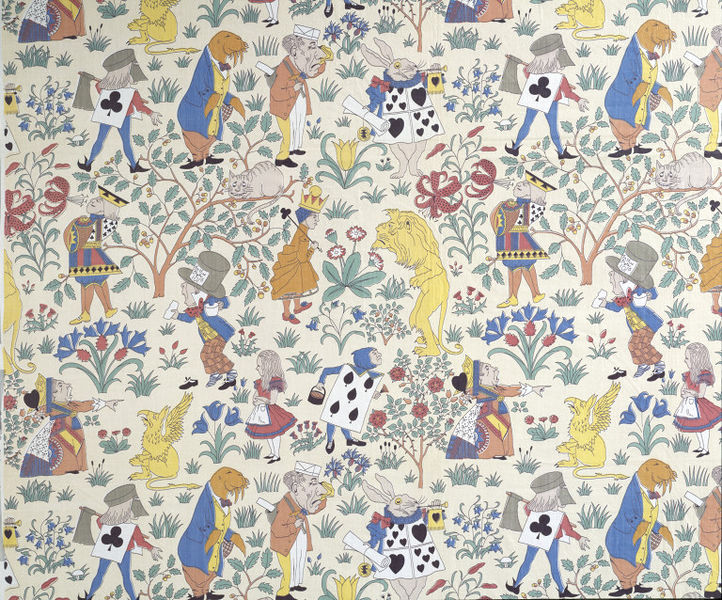 Charles Francis Amesley Voysey
,
Alice in Wonderland
fabric
, 1920.
At the end of this room there was also a collection of old and modern books that you could look at. One that caught all our eyes was a pop-up book by Jotto Seibold:
It was a really fun, clever book which was a modern take on the old story. I loved the typography and illustrations, it was such a quirky book and was completely different to the more traditional items in that room.
The next section in the exhibition was dedicated to Surrealism. Surrealists shared Carroll's fascination for the uncanny and unexpected. They were drawn towards Carroll's fantastical worlds, where normal laws didn't apply and a random set of rules existed.
Max Ernst,
Alice in 1941
, 1941.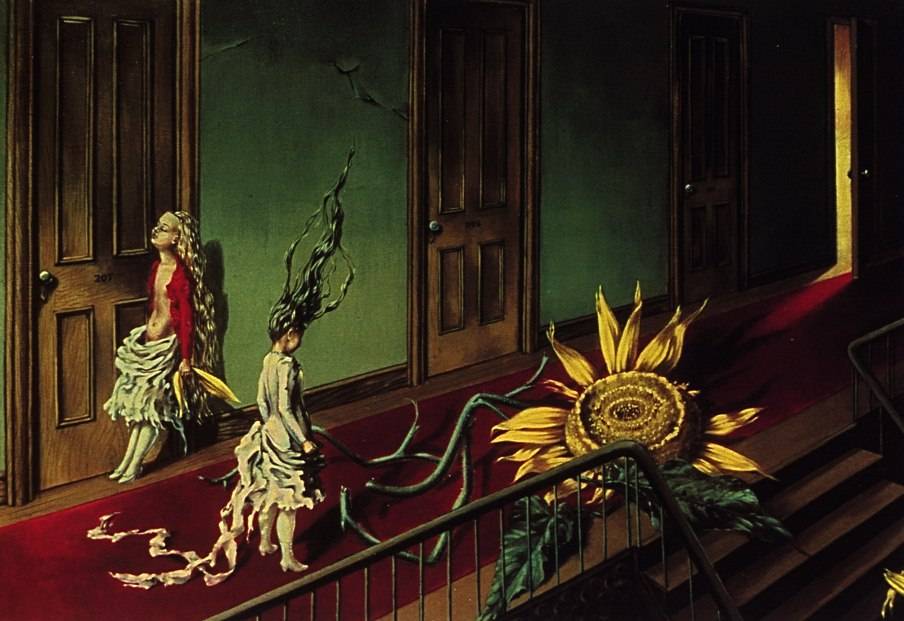 Dorothea Tanning,
A Little Night Music
, 1943.
Max Ernst,
Three Little Girls Set Out for the White Butterfly Hunt
, 1958.
Towards the end of the Surrealist section were 12 illustrations which Salvador Dali had created. They were really mad and colourful - the combination of Dali and Alice was perfect. This is more of the type of thing I expected from the exhibition, he captured the essence of the story perfectly.
Mad Hatter Tea Party
Down the Rabbit Hole
In the final area of the exhibition, a section was dedicated to artwork from the 1960/70s. According to the information on display, the artists 'found a fruitful source of inspiration in the Alice books, particularly their depiction of a world freed from the conventional constraints of perception'.
Paul Laffoley, Alice Pleasance Liddell, 1968.
Peter Blake, Well This is Grand, 1970.
Adrian Piper, Alice Down the Rabbit Hole, 1966.
Adrian Piper, Alice and the Pack of Cards, 1966.
Graham Ovenden, Alice, 1970.
John Wesley, Falling Alice, 1963.
There were some interesting pieces in this bit, very colourful and psychedelic - just what I'd expect from that era. However, after this the exhibition went downhill. There were some movie clips, which as far as we could see had nothing to do with Alice, and to top it all off...a huge wall of pornographic text. I really thought this exhibition would be fun and interactive but it was completely the opposite. Alice in Wonderland was primarily a children's book but a lot of the exhibition was unsuitable for kids. I also didn't see one Disney drawing, which are really beautiful - I think there was a small section of the film played in a montage, but even this was hidden away in a little room. In my opinion, the exhibition was trying to be too clever and in doing so, lost the whole fun and essence of the story.